Go nuts with coconut! This vegan and healthy savoury pancakes is a definite addition to your breakfast list. Not only are these easy to make, healthy and require only a few minutes to cook. You can customise the ingredients the way you want to tantalise your taste buds. Hold up there is an alternative, spicy version you can make by adding savoury coconut chips from Goodfolks – Booyah it's the jackpot baby!
Coconut chips are a very healthy, delightful and very nutritional snack all on its own and who better to bring it freshly packaged than GoodFolks – They truly are good folk!
Just one of the best companies who makes the best coconut chips, the best by far I've dined on. They have many different flavour variations such as Cocoa, Spicy, Cinnamon and all these are organic and made with all natural ingredients.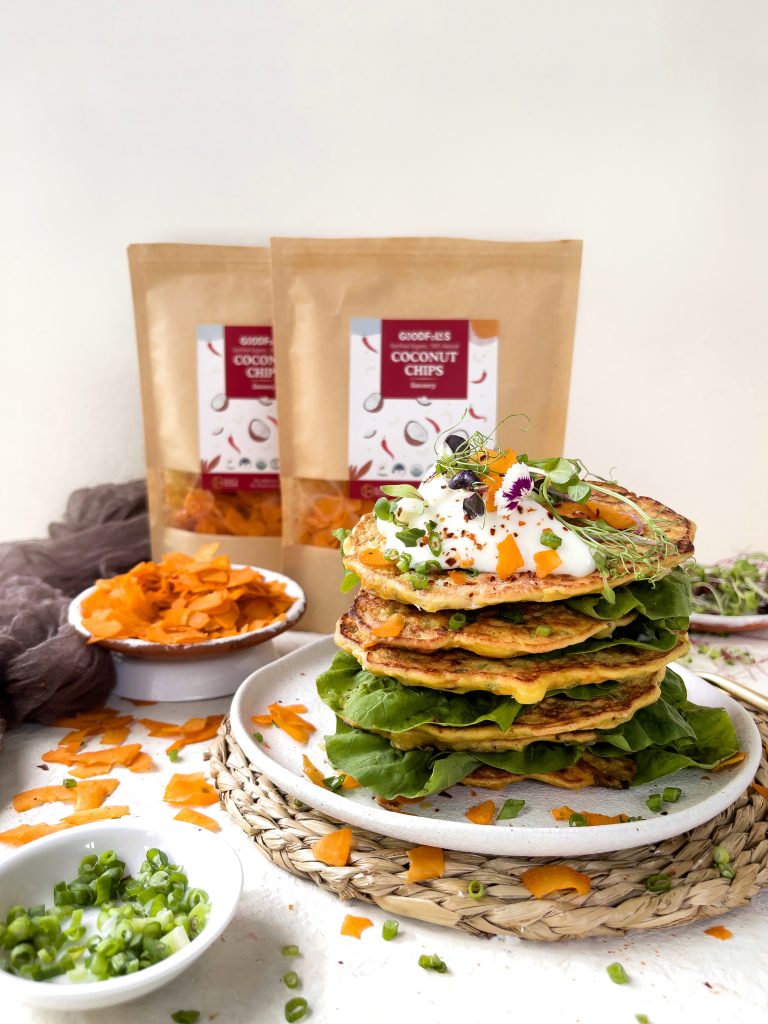 Spicy COCO…NUTTT! Yup, that's the secret punch I was talking about earlier. Oh that coconutty goodness with a touch of fire bringing an all round combination that throws a wonderful zing to your dish. DJ…Queue that crunch sound effect!
I strongly believe coconut chips are the most underrated ingredient out there. Most people, like me, take this beautiful ingredient for granted and remain unaware of just how delicious they can be and the mind blowing endless possibilities of combinations with dishes.
The savoury version can be used in many ways – You can add a handful of savoury chips to your batter when you are making savoury buns, or as a filling when making a sandwich, burger or even submarine bun. It not only enhances the flavour but also adds a nice crunch!  You can also use this as a topping to savoury dishes such as savoury waffles, or pancakes. Bring in an amazing touch to taste and oh boy do they do they appeal to the eye, the colour just makes the mouth water. 
Ingredients 
01 cup of  Chickpea Flour 

1/2 cup or GoodFolks savoury coconut chips 

1/2 cup of water or more depending on your choice 

1/2 cup of grated carrots

1/4 cup of corn 

1/2 cup of chopped green onions

1/4 cup of chopped onions

1/2 tsp of baking powder

01 tsp of garlic powder

01 tsp of onion powder

1/2 tsp of salt – adjust to your preference

1/2 tsp of pepper – optional

Garnishing 

Microgreens 

Coconut yoghourt 

Green onions 

GoodFolks Savoury coconut chips 
Method 
Add all the chopped vegetables into a bowl and add the seasoning (salt, pepper, garlic powder, onion powder) and give it a good mix.

Add chickpea flour to the vegetable mixture and combine everything. 

Finally, add the water bit by bit to avoid clumps and stir well to combine. Adjust the amount of water that you add depending on how thick or thin you want your pancakes to be.

Next add the Goodfolks savoury coconut chips and give the batter a good mix. Whoo hoo coconutttt!

Heat up a skillet over medium heat, and add about 02-03 tbsp of coconut oil and pour 1/4 cup batter onto the skillet.

Cover and cook for 05-07 minutes on each side till the bottom is golden brown

Plate the pancakes, garnish with some coconut yoghurt, microgreens, green onions and more savoury coconut chips and serve warm.