The autumn season brings out the lazy side in all of us and remains ideal for enjoying a warm meal that warms the cockles of the heart. Comfort food is most welcomed in my household during a misty morning, a bowl of warm oatmeal, porridge, or perhaps cozy squash soup really does tick off all the right boxes adding a breath of life into an otherwise slow lazy morning.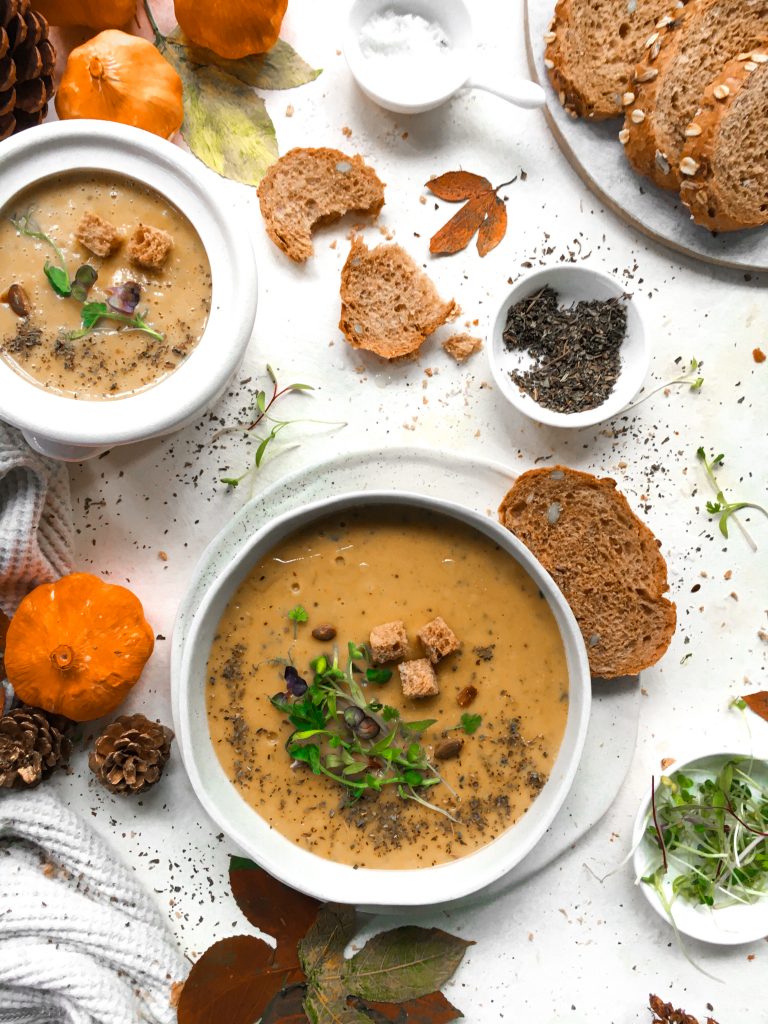 Whenever my cravings call on a delicious soup, my go-to preference is pumpkin or butternut squash, and every time I try out different combinations to make things interesting. I recently discovered the 100% organic and vegan coconut milk powder from Island Souce and I really had to try out that product.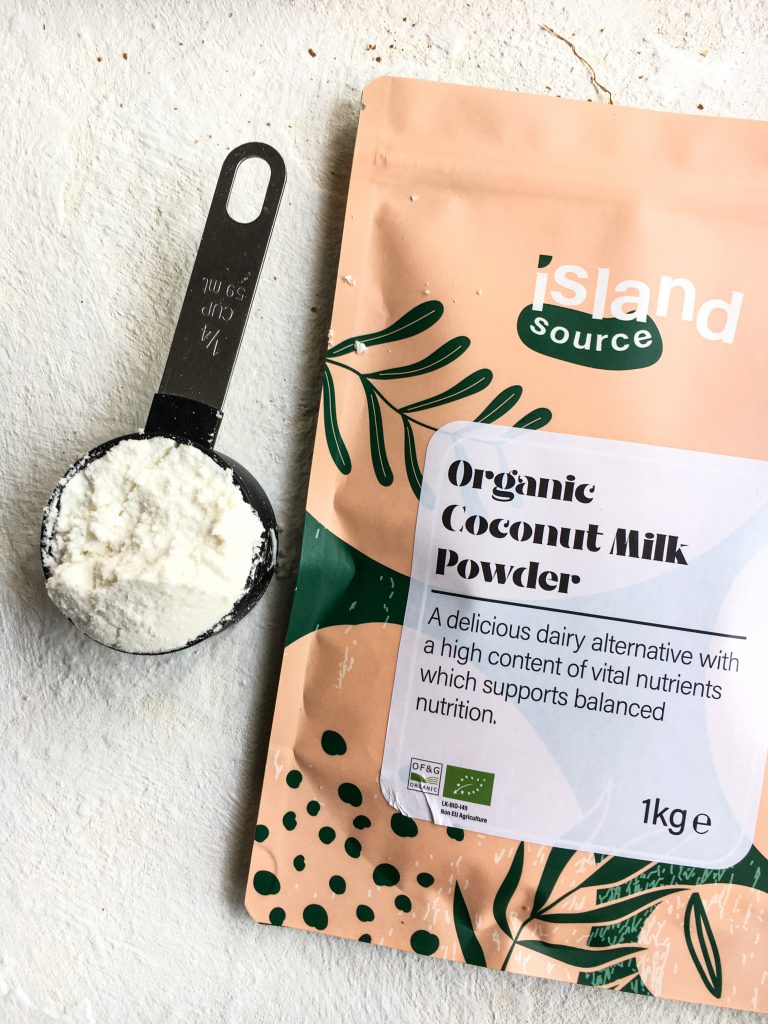 The best thing about this coconut milk powder is it is an organic product from Sri Lanka, sourced from a community of organic farmers and made from freshly squeezed coconuts. This product does not contain any dairy unlike other coconut milk powder products and there are plenty of uses for it in cooking, baking, you can add it to your smoothies, cocktails, curries even in your self-care routine.  This can be used in powder form straight from the bag or add water to get a creamy liquid texture before adding it to recipes – it just depends on what you're using it for. If you want to get your hands on this product you can buy it from Amazon
Ingredients
03 cups of batana / butternut squash – peeled and cubed
03 1/2 cup of veggie broth
1/2 cup of thick coconut milk
01 large onion – diced
03 cloves of garlic – minced
02 tbsp of olive oil
1/4 cup of chopped basil
1/2 tsp of curry powder
1/4 tsp of cumin
01 tsp of salt – adjust to your preference
01 tsp of pepper – adjust to your preference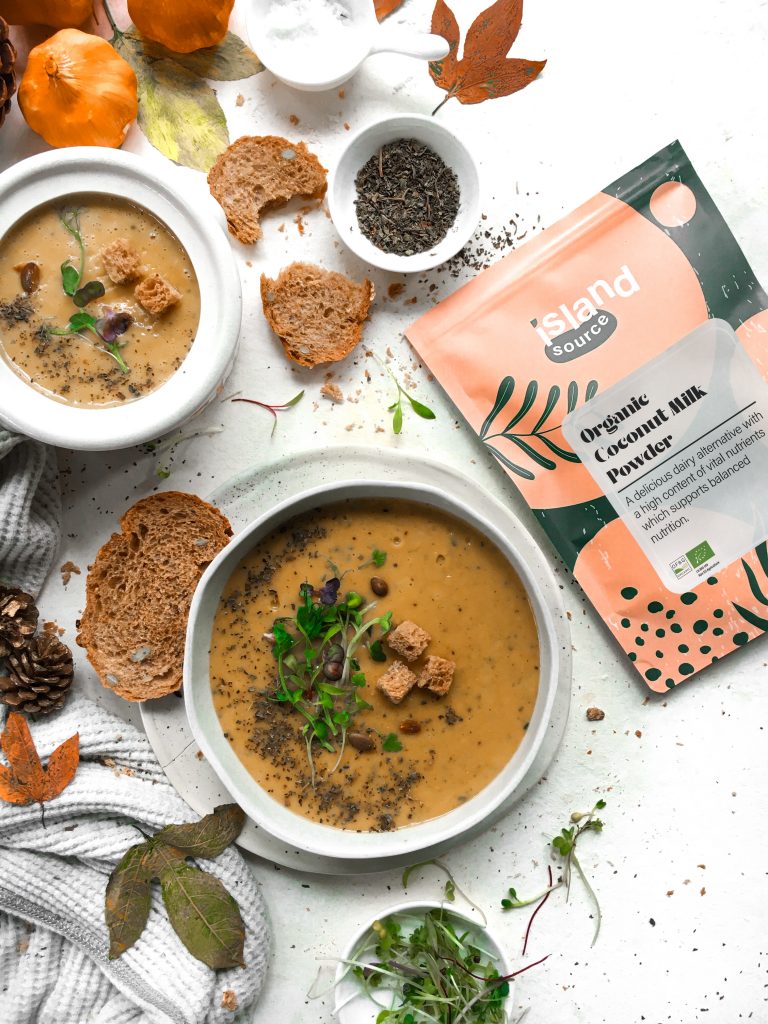 Method
Prepare the coconut milk

Mix 05 tbsp of coconut milk powder with 1/2 cup of warm water to make thick coconut cream. Set aside. Add 04 tbsp if you need a lighter consistency.

Heat up a large cooking pot and add olive oil. When oil is heated add onion, garlic, cumin seeds and saute for about a minute.
Add batana cubes, season with salt, pepper, curry powder, and give it a good mix.
Next, add vegetable broth, mix,  cover, and cook for 10 -15 minutes in medium heat till batana cubes are tender.
Finally, add the thick coconut milk and chopped basil, stir well to combine, and cook for another 05-07 minutes on low heat.
Blend the soup using a hand blender.
Give it a taste and add more salt or pepper as required.
Pour the soup into soup bowls, garnish with microgreens, dried basil, and pumpkin seeds, and enjoy with some warm freshly baked bread.
Try this out and let me know how this recipe turns out for you in the comments! You can also share your results with me on Instagram with the hashtag #thefoodsnapsrecipes.
Can't wait to see your re-creations!