It's always good to tantalize your taste buds with a scrumptious and creamy homemade pumpkin soup. It's cozy, easy to make, takes care of your appetite, and is super healthy.
Pumpkin being an all-season vegetable in Sri Lankan, it's been part of an age-old diet – It can be prepared in various ways such as a boiled/steamed, soup, as a curry, stir-fry and some also make cakes and jams too… So many options!
Pumpkin soup is something that brings back childhood memories.  When I was a lot shorter those many years ago, my mom used to make all kinds of food when I went home for the holidays. Mostly my favorites and there is nothing better than Amma's cooking! This pumpkin soup recipe that I'm sharing with you today is actually given to me by my mom, with a pinch of my creativity of course. 
Let's get to the recipe. This recipe requires only a few ingredients and takes about 15-20 minutes to make. 
Ingredients
Diced pumpkin – 300g 

One large onion (diced) 

Garlic (minced) 

Few stems of lemongrass (my secret ingredient)

Few leaves of basil – about 10-12 big leaves 

Few stems of celery  

1/2 tsp of salt – adjust as your preference 

1/2 tsp of pepper – adjust as your preference 

04 cups of vegetable stock

03 tbsp of olive oil 
Method
In a pot over medium heat, heat some oil. (You can use coconut oil or olive oil). Then add diced onions, minced garlic, and cook till it becomes golden brown. 

Then add diced pumpkin and vegetable stock and give it a little mix. (If you don't have a vegetable stock, don't worry, You can use water instead. But make sure you add some more spice and herbs like coriander leaves, lemongrass, garlic, onions, and cumin powder). 

Next add your herbs and spices – salt, pepper, lemongrass, celery, basil and bring to a boil, reduce heat to low, and simmer for 10-15  minutes covered. (until pumpkin is tender). 

Now purée the mixture using a hand blender until smooth. Make sure to remove the lemongrass and celery stems before you blend the puree. 

You can serve this now or if you want you can put the purée back into the pot and simmer for another 10-15 minutes. 
Serve in a soup bowl and garnish with your favorite herbs. 
Nutrition facts of Pumpkin 
The information gathered from Your-Calories below table shows the nutritional breakdown of 100g of Pumpkin.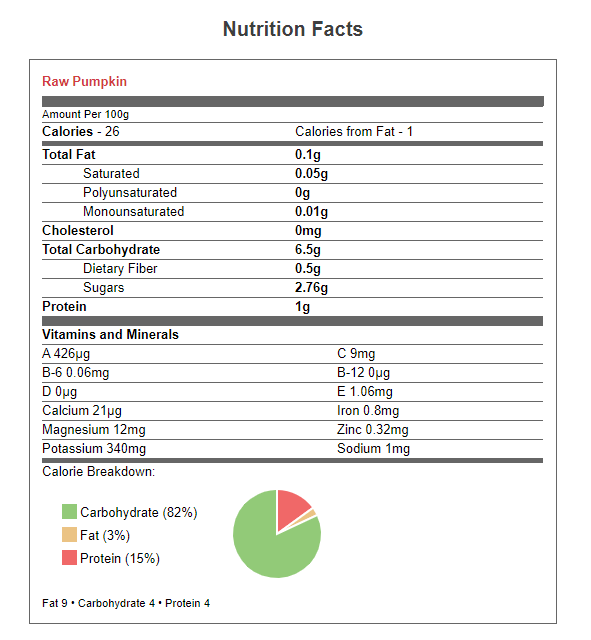 Health benefits of Pumpkin
According to the findings of Healthline below are the 09 impressive health benefits of Pumpkin. 
Highly Nutritious and Particularly Rich in Vitamin A

High Antioxidant Content May Reduce Your Risk of Chronic Diseases

Packs Vitamins That May Boost Immunity

Vitamin A, Lutein, and Zeaxanthin May Protect Your Eyesight

Nutrient Density and Low-Calorie Count May Promote Weight Loss

Antioxidant Content May Lower Your Risk of Cancer

Potassium, Vitamin C, and Fiber May Benefit Heart Health

Contains Compounds That Promote Healthy Skin

Incredibly Versatile and Easy to Add to Your Diet
Please let me know how this recipe turns out for you in the comments! You can also share your results with me on Instagram with the hashtag #thefoodsnapsrecipes.
Can't wait to see your re-creations