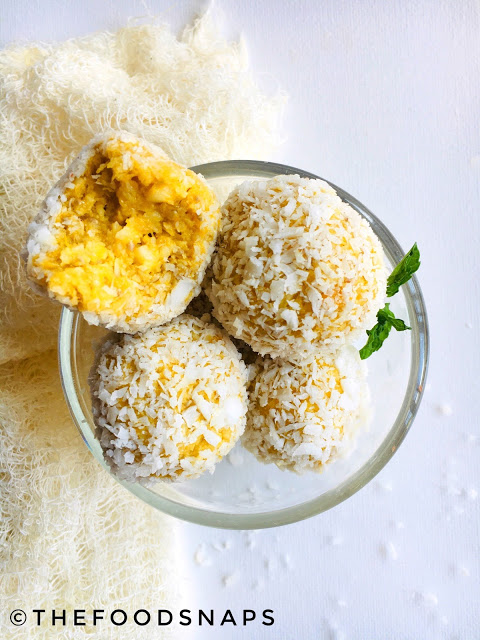 These yummy coconut mango bliss balls are the perfect snack or desserts you can have. These are sugar free, vegan and so yummy. 
It's the mango season in Sri Lankan and I've been trying so many recipes with mangoes lately. One fine recipe that I tried recently was these coco-nutty mango balls. These require only fewer ingredients and can be made with less than 15-20 minutes. And the best thing is these can be stored in the refrigerator for close to 1.5 weeks. 
So if you have some mangoes at home and in need of a healthy snack then try out this recipe. 
Ingredients
01 cup of mango

01 cups of desiccated coconuts 

02 tsp of white chia seeds 

02 tsp of hemp seeds 

1/2 tsp of crushed cardamom 

1/4 cup of dried nuts or seeds (if you want little crunch but this is totally optional) 

1 tsp of sweetener (optional) – honey or maple syrup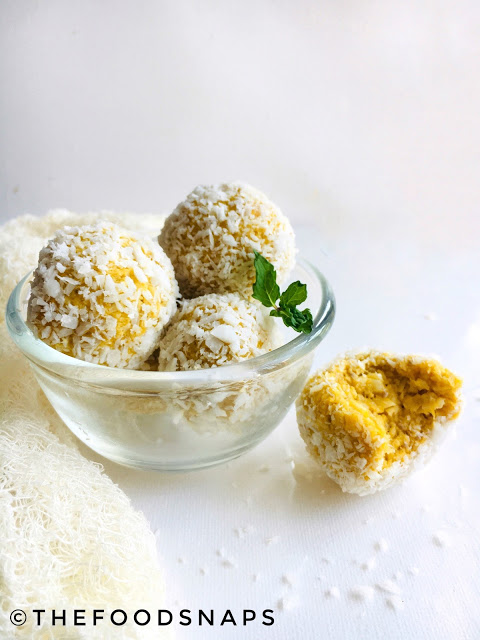 Method
01. First we need to make mango purée, to do that cut mangoes into small cubes and add to a food processor or a blander. (Do not add any liquids). Blend well until smooth. 
02. Heat up a pan over medium heat and add the purée. Cook for about 5-7 minutes stirring until bubbles form. 
03. Add desiccated coconuts, sweetener, chia seeds, hemp seeds, dried nuts and seeds, cardamom and mix everything together. (If you don't have any of these ingredients then don't worry. You can simply go ahead with mango, sweetener  and coconuts) 
04. Continue to cook in low flame until the mixture becomes stiff and reaches doughy consultancy. (cooking time may depends on the moisture in the purée). 
05. Let the mixture cool down a bit. Once done take small potions from the mixture and make balls (or any shape you like ?) and roll the balls on the desiccated coconuts. 
06. Store in a glass container in the refrigerator. You can keep these fresh for close to 1.5 weeks. 
Please let me know how this recipe turns out for you in the comments! You can also share your results with me on Instagram with the hashtag #thefoodsnapsrecipes. 
Cant wait to see your re-creations!