Pizzzaaaaaaaaaaaaaaaaa!!! All hail the mighty pizza! Pizza! Pizza! Pizza! Oh right, this isn't a protest, get your act together and stop chanting. So pizza, that mouth-watering bread base with amazing toppings and tons of cheese, a meal that requires no occasion. Seriously, my husband will have pizza for breakfast, lunch, and dinner, not to mention when he's having his occasional beer and movie marathons. I'm a serious addict too but I rather make my husband look like the crazy one here, you know for appearance's sake.
Store-bought pizza is good, but homemade is better. It takes less than an hour to make and you can have all your weird combinations that might make a pizza shop question your sanity.
My hubby and I are huge pizza fans and we order pizza at least 4 or 5 times a month that actually costs a lot. I've decided that I should try making some pizzas at home, not only would it be fun but I just needed pizza for a snack that evening. Alright, it took me a couple of attempts to get this right, in the end, I got a very satisfying pizza dough recipe which is what I'm going to share with you today. Oh, and I have a crazy unique pizza topping that might just take pizza to a whole new level.
Ingredients
1/2 cup of lukewarm water
01 tsp of brown sugar
01 tsp of instant yeast
1/2 tsp of salt
01 and 1/4 cup of all-purpose flour
02 tbsp of all-purpose flour for dusting
01 tbsp of coconut oil
Toppings
02 cups of button mushrooms – sliced
01 tbsp of Finch basil leaves – Shop now
1-2 tap of Finch Oregano powder – Shop now
01 tbsp of black garlic paste – Shop now 
1-4 cups of black olives
1/2 cup of pizza sauce/tomato sauce
02 cups of grated mozzarella cheese
Prep time – 50 minutes   Cooking time – 20 minutes    Serves – 02 medium-sized pizza
Method
Add lukewarm water and sugar to a large bowl and stir well together until sugar dissolves.
Next, add instant yeast to the bowl,  give it a quick mix, cover, and allow to rest for 10-15 minutes.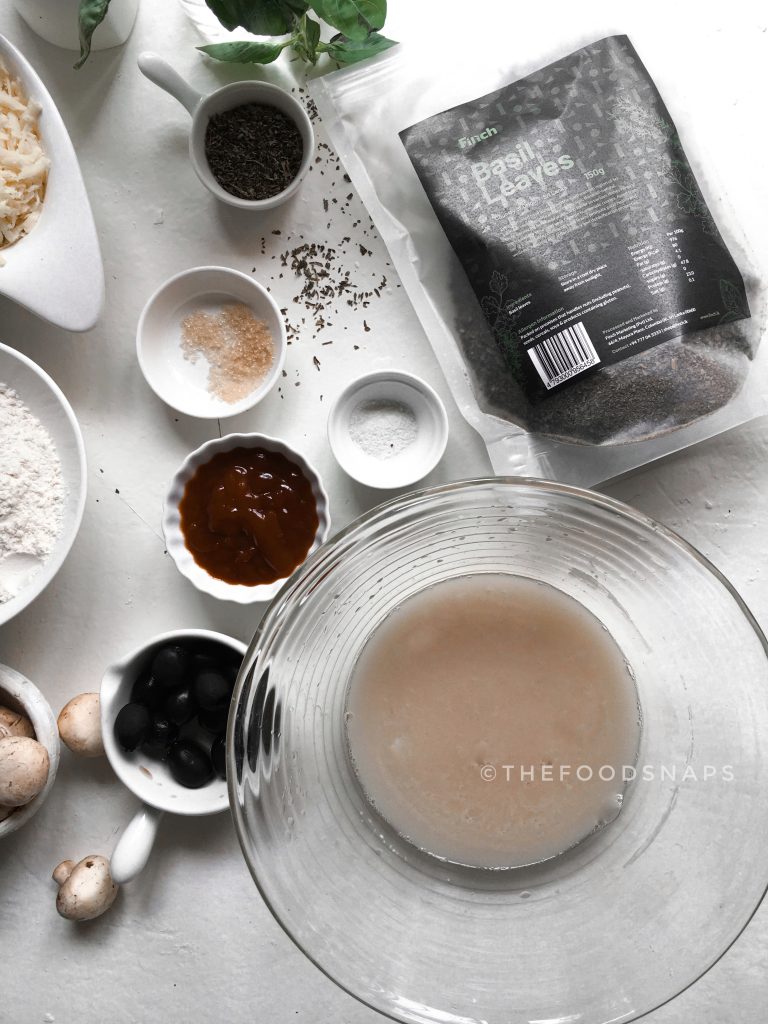 When the yeast is active add all-purpose flour and salt and mix both dry and wet ingredients together using a whisk or a spatula.
Now let's get your hands dirty! start kneading the dough using your hands until all the ingredients are well combined and until a smooth dough forms. Don't be afraid to sprinkle some more flour into the mix if the dough is too sticky.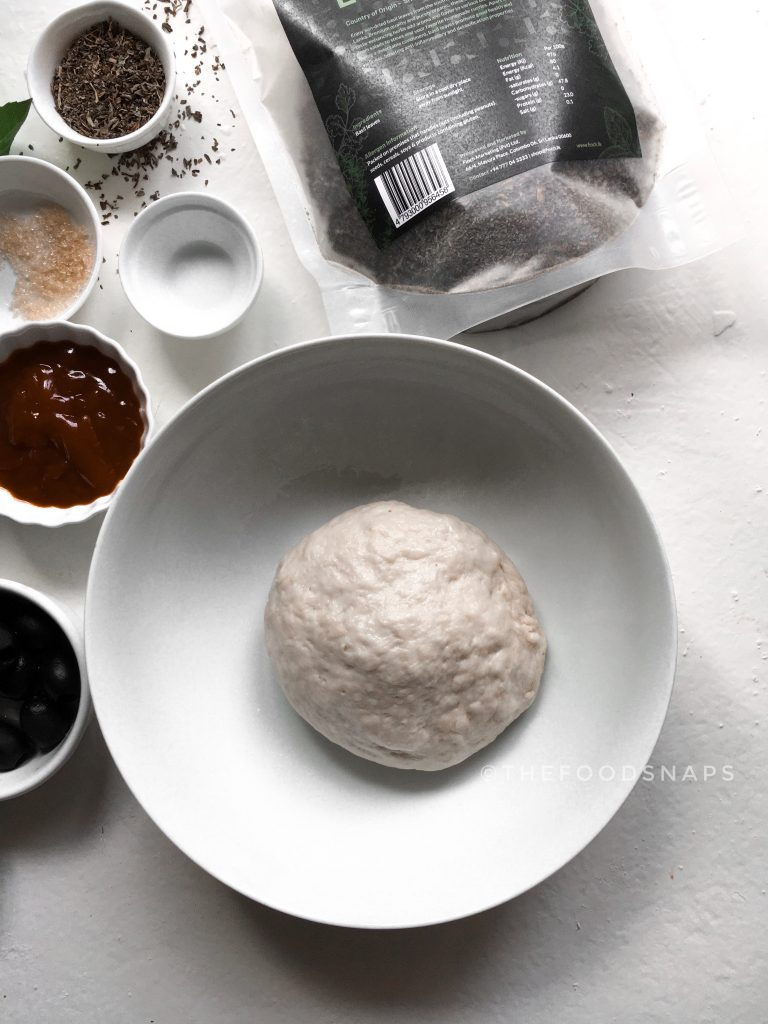 Apply butter or oil into a bowl and transfer the pizza dough, lightly brush the pizza dough with butter or oil, cover and rest for 30-45 minutes until the dough doubles in size. (ref image)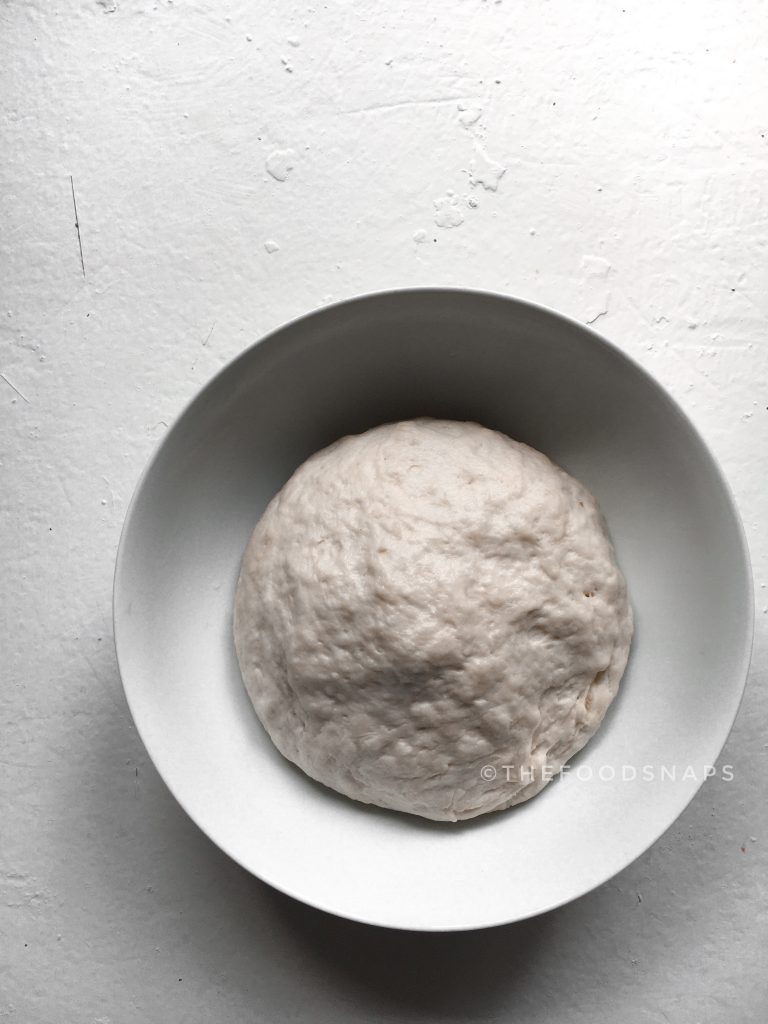 Preheat your oven at 180C
Meanwhile, heat up a skillet over medium heat, add 02-03 tbsp of oil and saute button mushrooms for 03-04 minutes until mushrooms are cooked. Don't forget to add the magic ingredient! a spoon full of black garlic paste!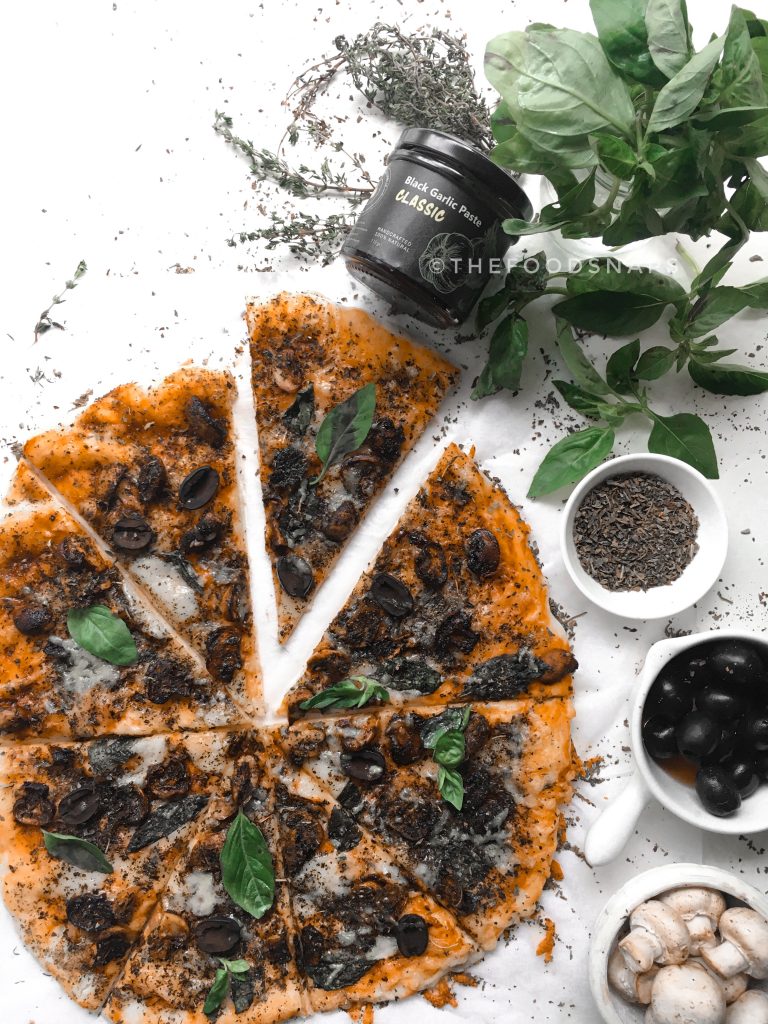 Transfer the risen dough onto a floured work surface, dust the dough and roll the dough to your desired shape of a pizza. With this set of ingredients, you can make either one large pizza or two medium-sized thin-crust pizzas.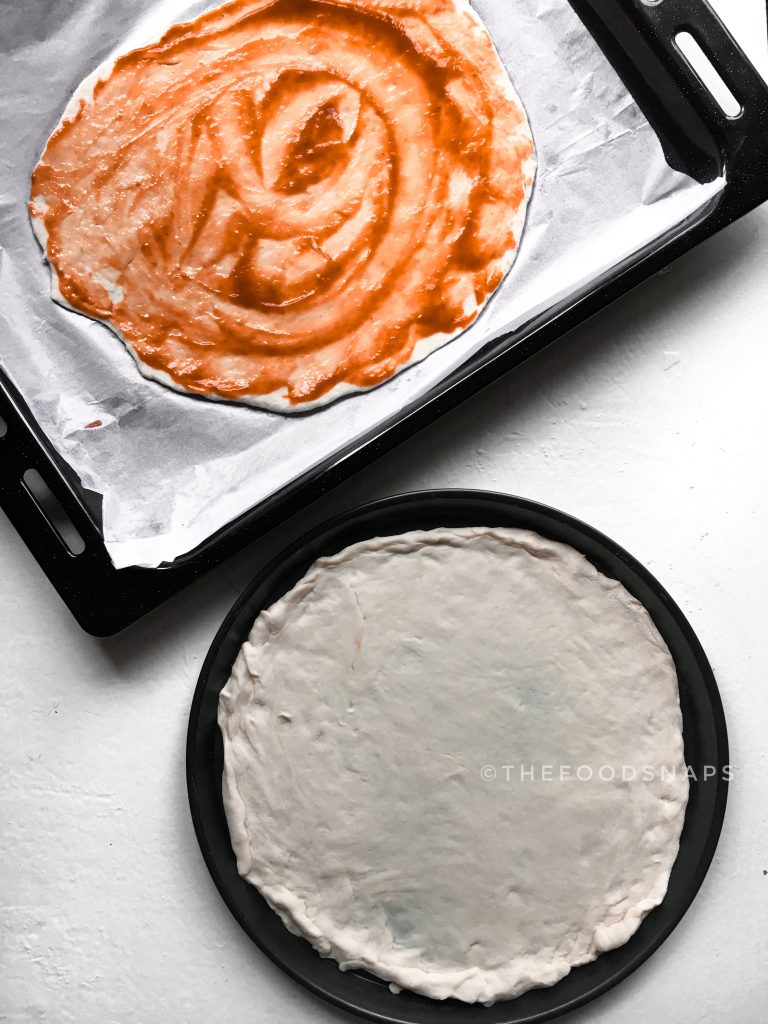 Once the pizza crust is shaped add your favorite toppings. First spread a generous amount of pizza sauce or tomato sauce followed by grated mozzarella cheese, black garlic mushrooms, black olives, and sprinkle some Finch basil leaves and back for 17-20 minutes or till the edges are crusty and golden brown.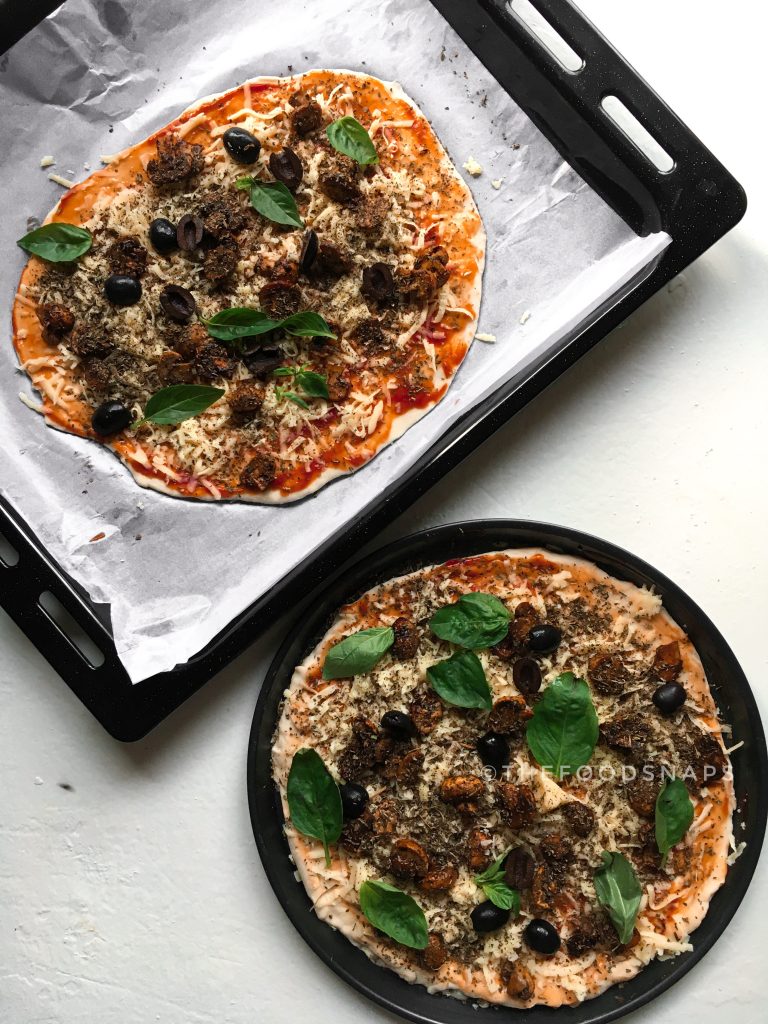 Let the pizza cool down a bit, slice it up and enjoy!
Please let me know how this recipe turns out for you in the comments! You can also share your results with me on Instagram with the hashtag #thefoodsnapsrecipes. 
Can't wait to see your re-creations