Oats happens to be that one special ingredient that never went out of style with me. I tried all things oats and continue to be amazed at the number of recipe options available. Let's quickly run through memory lane with the recipes I've done, I mean it's the only honorable thing I can do for this versatile ingredient domesticated horses thrived on. You can do pancakes, waffles, oatmeal, crepes well the list goes on but out of all my favorite and the easiest oats recipe is oatmeal. All this time I've been cooking my oatmeal the conventional way so I wanted to try something new, and behold the "Baked oats".  Of course, I can't take all the credit here, this recipe was inspired by a fellow member of the foodie community,  theconscientiouseater
As similar to conventional oatmeal, baked oats are also prepared the same way, but you can add more flavorful things to the batter to make it healthier and delicious such as fresh fruits, seeds, dried nuts, and fruits. Speaking of dried fruits, did you know that dried fruit is highly nutritious. One piece of dried fruit contains about the same amount of nutrients as the fresh fruit but condensed in a much smaller package. By weight, dried fruit contains up to 3.5 times the fiber, vitamins, and minerals of fresh fruit. – Read more 
If you are looking for a place to buy local dried fruits then VLFresh is your stop. They have a wide range of local dried fruits such as papaya, banana, pineapples. mango and they even have a cocktail mix.  These amazing dried fruits can be added to your daily diet in many different ways such as add to your smoothie or morning oatmeal porridge, add to baking goods such as bread, muffins, or cakes, use for garnishing and toppings for salads, or even can munch on these because these are a perfectly healthy snack.
The best part is they have no added sugar, no added chemicals or preservatives making them child-friendly and health-friendly!
They are prepared using vacuum dehydration technology making them last longer whilst preserving the color, texture, and nutritional value. So make sure that you add these to your diet as much as possible.
Ingredients
1 1/2 cups of rolled oats
1/2 cup of oats flour
1/2 cup of plant-based milk
1/4 cup of creamy cashew butter – Shop Now 
01 ripe banana – mashed
02 eggs – flax eggs / chia eggs
03 tbsp of kithul treacle
01 tsp of baking powder
01 tsp of vanilla powder – Shop Now 
1/2 tsp of salt – adjust to your preference
1/4 cup of blueberries
1/4 cup of almond slices –

Shop Now 

06 dried pineapples – Shop Now 
Tips
Grind some oats flour at home – If you cannot find oats flour for this recipe then simply grind some rolled oats or instant oats using a grinder.
Add more flavor –  To add more flavor to the baked oats you can add chocolate chips, crushed dried fruits, or even fresh fruits like strawberries, raspberries to the batter or just on top.
Bake as soon as you prepare – Rolled oats/oats flour tends to absorb all the moisture when soaked in liquid so if you do not bake as soon as you prepare the batter then you'll end up with dried-out oatmeal.
Add more sweetness – Since I don't have much of a sweet tooth, I kept this recipe with a touch of sweetness. This shouldn't stop you from meeting those needs, remember recipes are best handled with a touch of personalization.
Method
Preheat the oven for 180°c
Mash a banana in a large mixing bowl then add eggs, milk, kithul treacle, creamy cashew butter and give it a good mix combining everything evenly.
Mix rolled oats, oats flour, vanilla powder, salt, and baking powder in a separate bowl.
Combine both dry and wet ingredients and stir well.
Apply butter to a medium-sized baking dish ( the one that I've used is 11*7) and pour the mixture into the baking dish.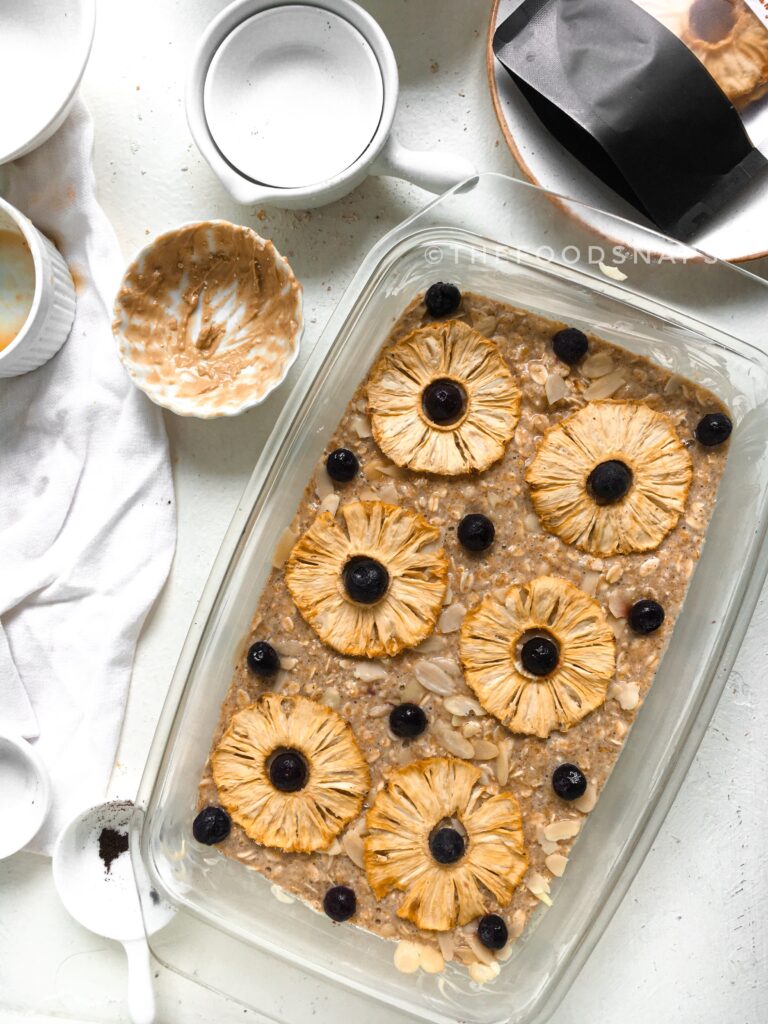 Add dried pineapples, almond slices, and blueberries on top and bake for 30-35 minutes until set.
Serve warm with a drizzle of peanut butter or greek yogurt with some more fresh fruits
Please let me know how this recipe turns out for you in the comments! You can also share your results with me on Instagram with the hashtag #thefoodsnapsrecipes. 
Can't wait to see your re-creations!