An easy-to-make trail mix is always a welcomed snack whether you're hiking or just lounging on a lazy Sunday afternoon or fighting the Monday blues – Oh yes! One must replenish the health bar to fight the Monday blues.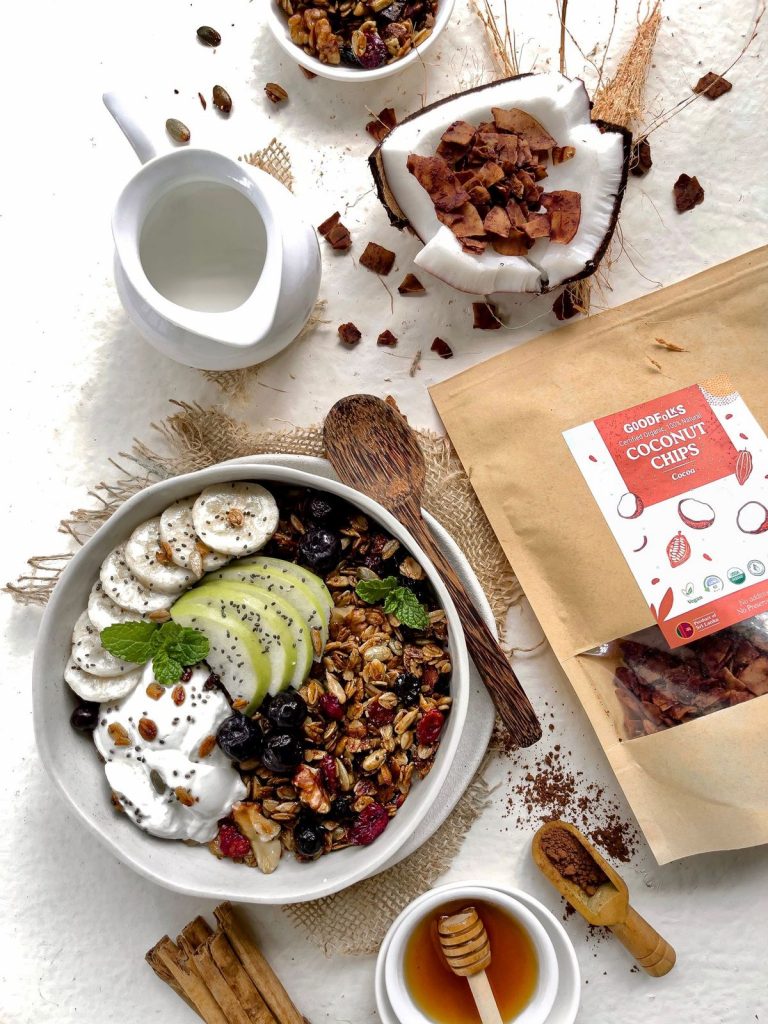 A trail mix is a type of snack typically made by baking rolled oats, dried fruits, nuts, and seeds. The best thing about it is, you can customise it. A pimp is my snack, sort of snack! Ohhh yeaaa! I'll admit it, I may have snacked on a little too much trail mix but it's all good, I've got energy for days. 
If you like your trail mix chewy, you can add more dried fruits like cranberries, goji berries, and raisins. If you walk the dark side and crave the crunch, you can add puffed rice, puffed quinoa, or some delicious and flavorful coconut chips!
Coco-nutttt… Who doesn't love that amazing fruit/seed! Brings Hawaii and Hula dances to mind doesn't it? Coconut chips are a very healthy, delightful and very nutritional snack all on it's own and who better to bring it freshly packaged than GoodFolks. Just one of the best companies who makes the best coconut chips, the best by far I've dined on. They have many different flavour variations such as Cocoa, Spicy, Cinnamon and all these are organic and made with all natural ingredients.  The best thing about this crunchy snack is its gluten-free, vegan, and it has no chemicals, no preservatives or no harmful additives. Yup, you read my mind "Guilt free snacking at its finest".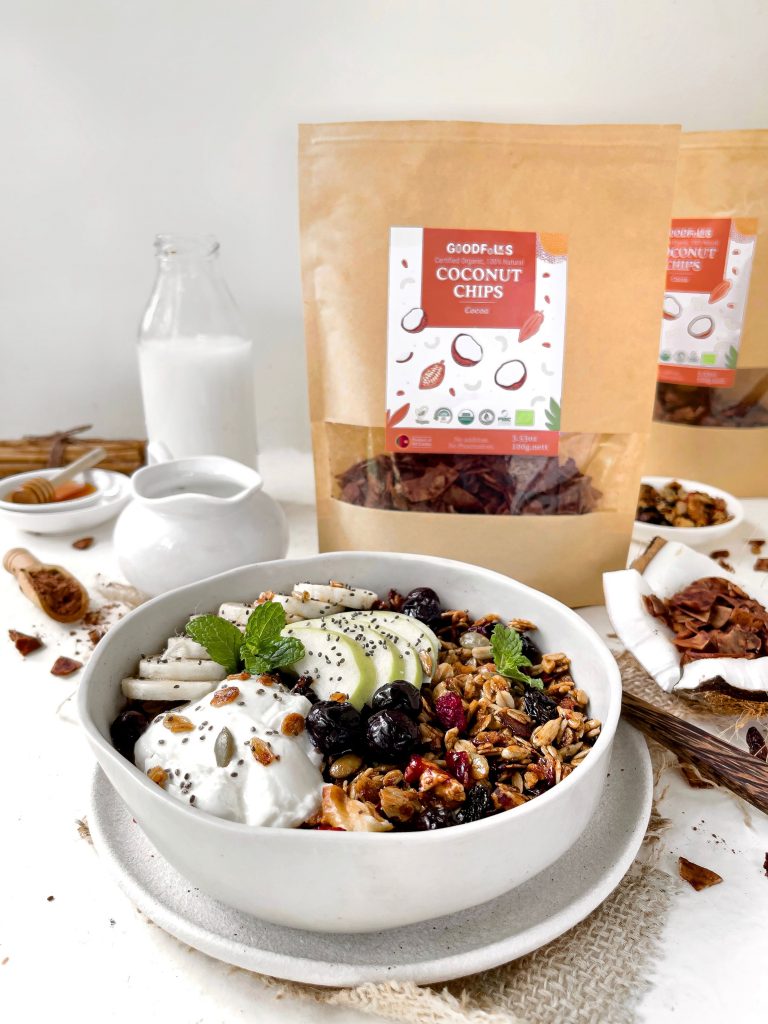 Blimey! Did someone move my trail mix bowl again? Anyway, moving on… Did you know coconut is an almost religiously used product in Sri Lanka? Apparently there are a hundred plus uses from the coconut tree, from weaving temporary carpets, cutlery made from shells, to music instruments – Nothing goes to waste, a versatile tree indeed. Sri Lanka is already a globally known spice market. Popular for tea, coffee, cinnamon and garments as well as tourism. Goodfolks capitalises on what this bountiful Island has to offer and brings you only the best the Island nation has to offer ensuring products are organic, ethical and sustainable. Quality is paramount yet not the only deciding factor, they work tirelessly with their suppliers to achieve these targets and is truly reflected in their product range..
There are so many ways that you can add coconut chips to your day-to-today diet. You can have them as a snack right out of the bag, you can sprinkle some of it on your morning breakfast bowl or smoothie bowl, You can use them as a topping to add some crunchy to your salad or dessert, or add to baking batter to add more flavour or taste to cakes and muffins. Well the possibilities that you can add these to your diet are endless.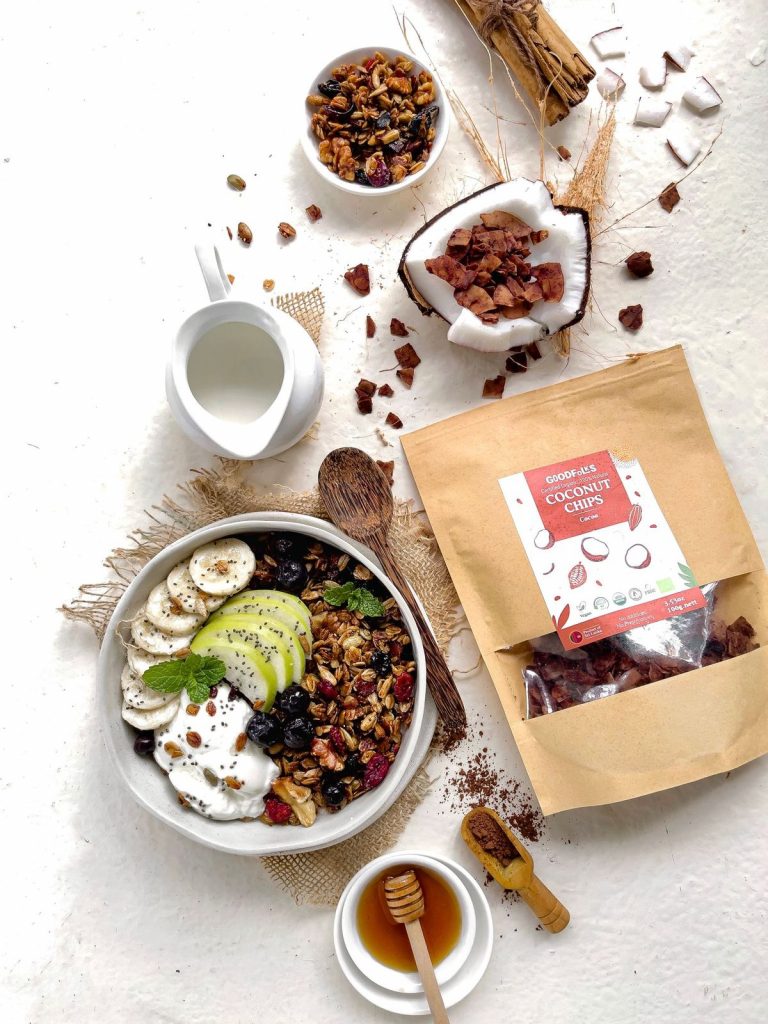 Ingredients 
02 cups of Rolled Oats 

1/2 cup of GoodFolks cocoa flavoured coconut chips 

1/3 cup of sunflower seeds 

1/3 cup of pumpkin seeds 

1/4 cup of GoodFolks chia seeds 

1/2 cup of walnuts – crushed 

1/3 cup of dried raisins 

01 tbsp of cinnamon powder 

1/2 tsp of salt 

1/2 cup of GoodFolks coconut treacle 

1/3 cup of coconut oil 
Method 
Preheat the oven at 180°c

In a large bowl mix rolled oats, GoodFolks cocoa flavoured coconut chips, GoodFolks chia seeds, pumpkin seeds, sunflower seeds, crushed walnuts, dried raisins and season with salt and cinnamon powder. 

Next add GoodFolks coconut treacle and coconut oil and give it a good mix making sure all the seeds are well coated with treacle and oil. The treacle adds the sweetness to the granola mix and oil makes them crispy and crunchy. 

Arrange a large baking tray with parchment paper and spread out the mixture on the tray in an even layer.

Bake for about 20 minutes. Remember to toss it and turn the mixture halfway through to bake evenly. You know the granola is ready when the mixture is golden brown. 

Let it cool down to room temperature and store it in an air-tight container. 
You can enjoy this trail mix as a snack to top it to your breakfast bowl or smoothie bowl.