Purple yam flour also known as Ube flour is basically ground substance of the meat of the purple yams. This powder is used for many things such as to make baked goods like bread, cakes and cookies, breakfast dishes like waffles, pancakes and this can also be prepared as a morning porridge.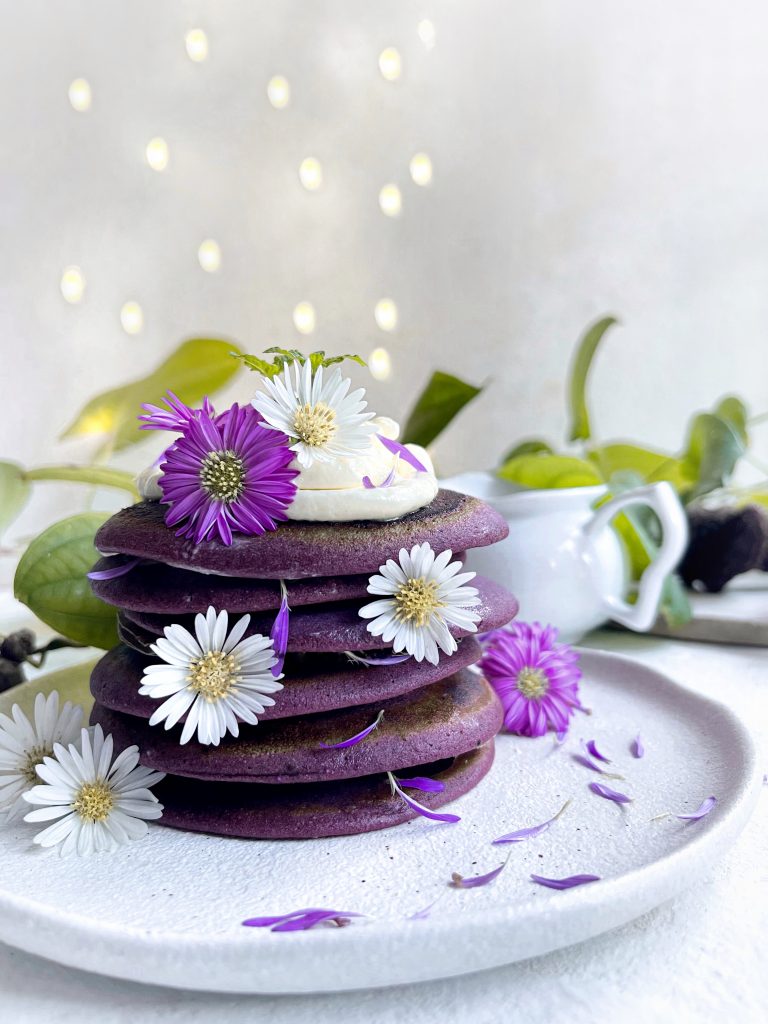 I remember the first time I had these purple yams, I was so young, so so young under the care and comfort of my mum. Some dishes really are a time machine and can take you back to some of life's sweetest moments. She once boiled these beautiful purple color potatoes looking root and served with some grated coconuts. The colour, texture and taste all just transformed it to a heavenly experience. I've seen the vines planted around the house but I never took notice of them until I had that dish. These yams were planted around the garden and once every year she used to harvest these and brought to the table many dishes from this amazingly yummy yam. The all time was a porridge made with coconut milk and a sweetener like honey or jaggery, served as a hot or cold dessert.
This recipe that I'm sharing today is basically purple yam pancakes made with Finch purple yam powder. According to the heathline.com Purple yams are a good source of antioxidants and vitamins A and C, helping you reach your daily intake levels. Finelib states that consumption of yam flour provides the body with essential minerals such as iron which regulates blood formation and prevents clotting in the body, potassium helps maintain normal blood pressure and other minerals which are essential to the body. If you want o try out this amazing ingredients then it available to purchase at Finch.lk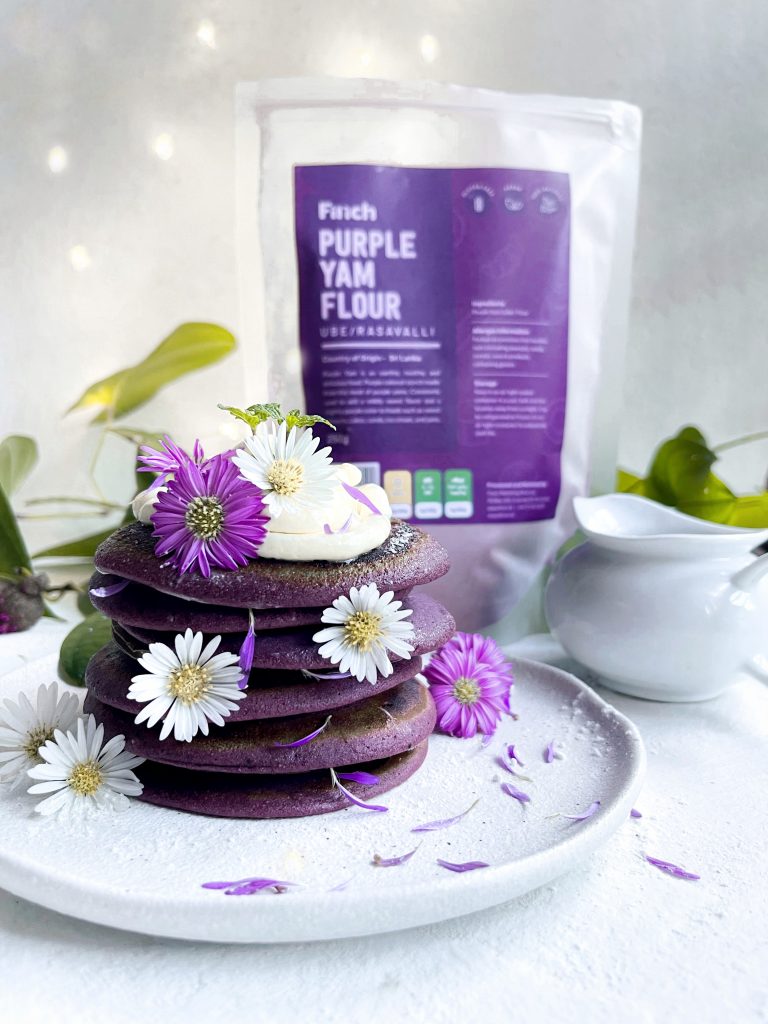 Ingredients
1/3 cups of Finch purple yam flour –

Shop Now

1/3 cups of all-purpose flour
1/2 cup of milk
02 eggs
02 -03 drops of vanilla essence
1/4 cups of honey or liquid sweetener
1/2 tsp of salt – adjust to your preference
01 tsp of cinnamon powder
1/2 tsp of nutmeg powder
Serving

Whip cream
Honey
Edible flowers
Method
Whisk the eggs in a medium-sized bowl, add milk, vanilla essence, honey and whisk again.
Mix the all purpose flour, purple yam flour, salt, cinnamon powder and nutmeg powder in a separate bowl.
Mix both dry and wet ingredients together.
Heat up a non-stick skillet over medium heat and apply butter (optional) once heated pour 1/4 cup from the batter and cook the pancakes for 03-04 minutes. You know your pancakes are ready when small bubbles starts to appear.
Flip and cook for another 03 minutes.
Serve with some whip cream, honey and garnish with edible flowers and enjoy.