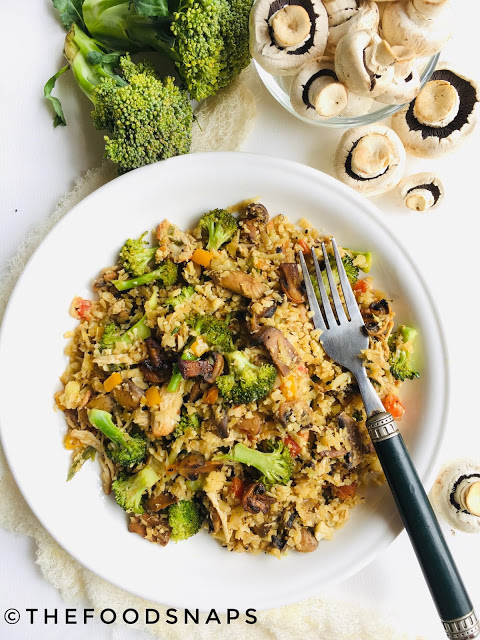 Hey guys, hope you all doing well. Today I'm bringing another cauliflower recipe for you. It's cauliflower fried rice. 
Making cauliflower fried rice is so easy. The beauty of using cauliflower instead of rice is it's so healthy, it's a low-carb food, it's vegan, you can mix it with any veggie or meat of your choice and it takes only few minutes to cook. 
Cauliflower is an amazing vegetable that can be cooked in many different ways. You can make it as a curry, you can steam it, fry it and make cauliflower bites, you can make cauliflower gnocchi or my most favorite way, Cauliflower Rice.  
Did you know that 100g of cauliflower contains only 5g of carbohydrates? 
How to make the cauliflower fried rice?

  
Let's talk about the ingredients first shall we? Here I made cauliflower fried rice with sauteed button mushrooms, bell pepper, tomatoes, spring onions and some grilled chicken. If you want to keep this vegan then you can totally opt out chicken.(Please note that this recipe is only for serving of one) 
02 cups of grated Cauliflower 

1/2 teaspoon of Salt 

1/2 teaspoon of Pepper 

1/2 cup of Bell pepper 

01 cup of Broccoli 

01 cup of button mushrooms – Sautéed 

1/2 cup of chopped tomatoes 

01 tablespoon of chopped Onions 

02 tablespoons of Olive oil  

01 teaspoon of garlic 

Use a food processor to blitz it into small pieces 

Use a grater to grate it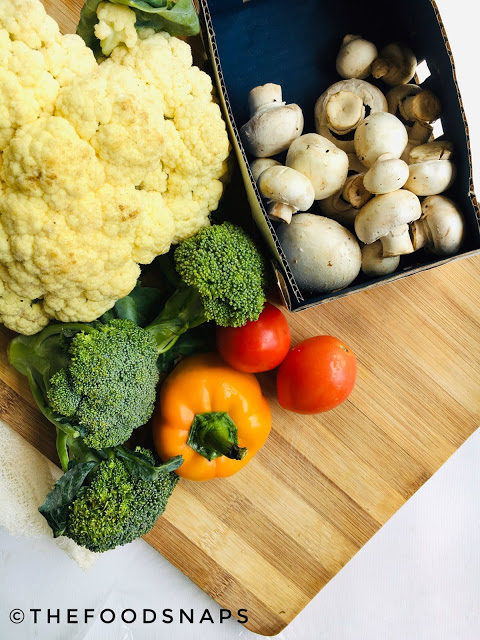 Method
There are two different ways that you can turn cauliflower head into rice. You can use either way but I find the grater very easy.
01. First cut the cauliflower head into small size chunks and wash thoroughly. (it's better to soak the cauliflower chunks in salt water for about 5-10 minutes) 
02. Then using a grater grate the cauliflower chunks.(Pictured below)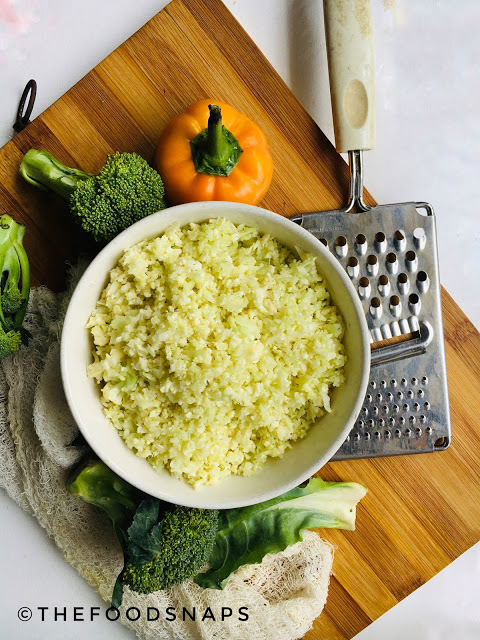 03. Once you grate it you have to get rid of the excess moisture in it or else you won't be able to get the best texture. To do that you can simply transfer cauliflower rice to a kitchen towel and press and squeeze the water out of it. 
04. Next heat up a large skillet or a wok in a medium heat and add olive oil. (You can use coconut oil as well). Then add onions, garlic and cook it for about 1-2 mins. 
05. Then add bell pepper and tomatoes cook it for about a minute and add grated cauliflower. Next season it with salt, pepper and cook for about 5 minutes stirring occasionally.  Finally add broccoli, grilled chicken and sauteed button mushrooms, give a final mix and cover the lid and cook in low flame for 05 more minutes. 
Please let me know how this recipe turns out for you in the comments! You can also share your results with me on Instagram with the hashtag #thefoodsnapsrecipes. 
Cant wait to see your re-creations!