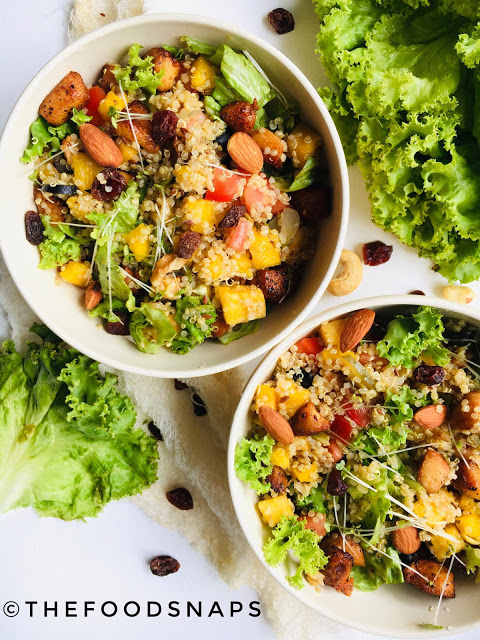 Looking for a easy salad recipe? Try this refreshing, protein and vitamins enriched white quinoa and chicken salad. 
Before jumping to the recipe let's get an idea what Quinoa is. 
What is Quinoa?
Quinoa (pronounced as KEEN-wah) is one of the world's most popular health foods available. but in the context of Sri Lankan market, it's still a novel seed which is slowly getting popular among people who are interested in having healthy and nutritional food choices. 
I remember me asking from my friends about Chia seeds years ago but no one knew what is was nor they have heard about it. So I did my own research. 
Quinoa is a gluten free grain-like seed that can be substitute to rice or grains. Three are different types of quinoa available in the market but the most commercialized types are red, black and white. There are so many different dishes and recipes you can make with Quinoa. Some are salads, fried rice, patties, use as a filling, pop it and use as a topping and many more. 
This recipe I'm bring to you today is the white quinoa chicken salad. I have to say that this is by far the best quinoa salad I ever made. It's full of colors, loaded with protein and vitamins and full of flavor. 
Ingredients
3/4 cup of cooked quinoa, 

1/3 cup of pan fried chicken, 

01 cup of chopped pineapple, 

01 cup of lettuce, 

1/2 cup chopped tomatoes, 

Some olives, 

Some pickles, 

Micro greens (mustard leaves), 

Handful of dried fruits and seeds (pumpkin seeds, flax seeds, pine nuts, almonds, cranberries). 

Bit of lime juice ( 2 small sized limes). 
If you are looking for a place to buy Red Quinoa you can get it from Bohemian Quest . Either order online, visit there store or they are also available on Uber eats.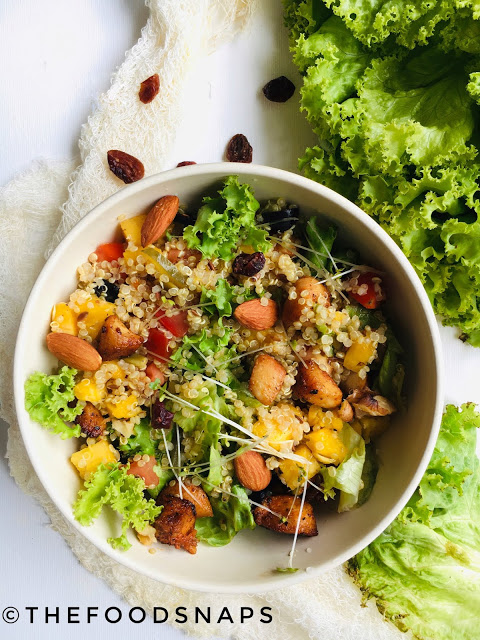 Method
First, rinse the quinoa in a fine mesh sieve until water runs clear. Rinsing quinoa removes its natural coating, which when cooked can make the quinoa bitter. 

When cooking the quinoa to water ratio is really important to get the best texture. Quinoa to water ratio is 1:2. For this recipe I'm using 3/4 cup of quinoa so I'm adding 1.5 cups of water to cook. 

Cover and cook in low flame for about 10-15 minutes until it's tender and fluffy. Set aside off the heat for few minutes to cool down. Uncover and fluff with a fork.

Take a large serving bowl and add all your chopped veggies and fruits. Add some seasoning (some salt and pepper). Add lime juice and mix everything together. 

Then add the cooked quinoa and give it a good mix and serve. Don't forget to sprinkle dried fruits and seeds on top with some micro greens. 
Please let me know how this recipe turns out for you in the comments! You can also share your results with me on Instagram with the hashtag #thefoodsnapsrecipes. 
Cant wait to see your re-creations!