Ever had 'Magic corn'? If you're someone living in Sri Lanka then I'm sure that you have had it at least once in your life. I'm a huge fan of those all flavors magic corn-related, cheesy, Mexican, or spicy… OK let's stop there before the drooling goes out of control.
Whenever I go out for errands I see these small food carts alongside the big shopping complex where they sell snacks for shoppers. Normally I'd turn away but I won't be walking away from a magic corn stall, well neither does my family. So glad we have corn going for us… Ok control the drool and stay on topic.
What does it take to make one of these magical flavourful little cups? Alrighty, I'm glad you finally asked. I've got a recipe for cheesy masala corn that might have you begging for more.
Health Benefits of Corn
Corn is a vegetable that is widely available in most countries. It is used to make many recipes such as cornmeal, polenta, grilled corn, and soup. You thought I forgot popcorn didn't you hahaha… NEVER! Corn has many health benefits as it contains high fiber, vitamins, and minerals. According to the study done by Nutritionix 100g of corn contains;
Ingredients
02 cups of corn / 02 medium-sized corn cobs
01 tsp of masala powder
1/4 tsp of chili powder – optional
1/2 tsp of salt
1/4 tsp of pepper
02 tbsp of butter
1/4 cup of finely chopped parsley or coriander leaves
1/4 cup of shredded cheddar cheese
Method
Clean your corn cobs and add to a medium-sized cooking pot with just enough water to cover the corn.
Cook it for about 15-20 minutes until corn kernels are tender. Remove the corn kernels from the pot and let them cool down to room temperature.
Carefully slice off the corn kernels into a large bowl.
Heat up a skillet on medium heat and once heated add butter. Let the butter melt and then add the corn kernels.
Cook corn kernels in butter for about 02 minutes while tossing and turning. Make sure all corn kernels are covered well in butter.
Add salt, pepper, masala powder, chili powder, coriander leaves, and give it a good mix.
Finally, add grated cheese and mix again until well combined. Give it a taste and adjust the seasoning if required.
Serve warm
Looking for more corn recipes? Try out below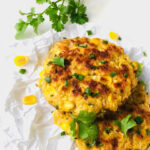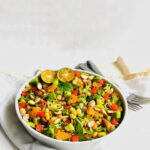 Please let me know how this recipe turns out for you in the comments! You can also share your results with me on Instagram with the hashtag #thefoodsnapsrecipes.
Can't wait to see your re-creations